Back on Board: Greg Louganis
Free screening and discussion with Cheryl Furjanic
Thursday 15 October | 4:30pm Johnson Center Cinema
Back on Board: Greg Louganis traces his story from a difficult childhood, through his Olympic conquests, to a transformative post-Olympic life, outlining the discrimination and other obstacles he has faced throughout his remarkable journey.
Part biography, part social exploration, the documentary reveals Louganis' evolution from childhood diving prodigy to Olympic champion, to pioneering openly gay athlete with HIV. The film won the award for Best Feature Documentary at the Annapolis Film Festival 2015, the Best Editing Award at the Salem Film Festival 2015, and both the Audience Award and the Best Documentary Feature Award at Outfest Los Angeles 2014.
"Now 55, Greg Louganis was adopted before his first birthday and grew up in Southern California, taking up diving at age nine. Throughout a difficult childhood, he was forced to deal with depression, bullying and prejudice.
Louganis won the silver medal in the 10M Platform event at the 1976 Summer Olympics in Montreal at age 16. In 1978, his diving skills earned him a scholarship to the University of Miami. Three years later, following the United States boycott of the 1980 Olympic Games in Moscow, where Louganis would have been the favorite in two diving events, he returned to Southern California to finish his degree and diving career at the University of California, Irvine.
He became a full-fledged international diving star in 1984. At the Summer Games in Los Angeles, Louganis won gold medals in the 10M Platform and 3M Springboard events. Four years later in Seoul, he became the only male diver in history to win those events in back-to-back Olympic Games.
In one of the most notable moments of his storied career, Louganis suffered a cut on his head when he hit the diving board during a preliminary round of the Seoul Games, but went on to win his gold medals days later. Though the American public originally lauded Louganis for his competitive spirit, it was not known at the time that he had tested positive for HIV six months earlier. When Louganis later announced that he was HIV-positive, it sparked outrage over his original non-disclosure of the virus and sparked a nationwide conversation about HIV/AIDS and sports.
Greg Louganis announced to the world that he was gay in the mid-1990s, but it was a not a well-kept secret in the diving world before that. During his dominance in the 1980s, many sponsors knew of his sexual orientation, which limited his marketability - just one example of the homophobia and hateful rhetoric that followed him long before and after his official announcement that he was gay.
Ending a prolonged absence from the diving world, Louganis has returned to mentor the next generation of American divers. Back on Board: Greg Louganis offers unprecedented access to the Olympian as he struggles with financial security and reunites with the sport that he once dominated, but did not feel accepted in. The film examines the good times and bad times, including the choices, relationships and missed opportunities Louganis has experienced throughout his career as a sports pioneer." -- HBO Sports.
Cheryl Furjanic is an award-winning filmmaker who has been teaching documentary video production at NYU for over a decade. She worked as an associate producer on Judith Helfand and Daniel B. Gold's Sundance award-winning documentary Blue Vinyl (HBO 2003). Cheryl holds a BFA from NYU, Tisch's Film & Television School and a Masters degree from NYU's Interactive Telecommunications Program.
"Part of the reason I wanted to make this film was that there were very few stories in mainstream media of LGBT folks when I was growing up," Furjanic says. "And as a young person, I was starved for images of people 'like me.' Thankfully things have gotten better in terms of positive LGBT representation in media. While it's true that homophobia -- in diving and in society -- is not as pervasive as it was when Greg was competing, we are still a long way from acceptance."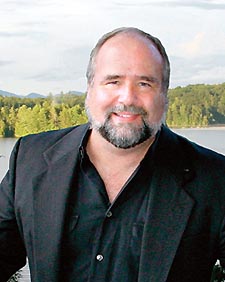 Our post-screening discussion will be facilitated by GMU's Ric Chollar, faculty advisor for the Pride Alliance and director of the LGBTQ Resources Center.
This event is free and open to the public.
Back on Board: Greg Louganis at GMU is sponsored by Film and Media Studies and Film and Video Studies. Co-sponsored by Communication, DKA, English, Global Interdisciplinary Programs, History, LGBTQ Resources Center, ODIME, Photography, School of Art, Women and Gender Studies, and University Life.
October 07, 2015